Hermiod Class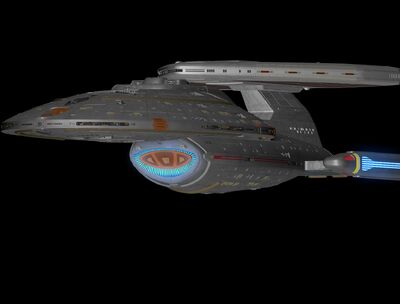 Vessel Designation:
Hermiod Class
Vessel Classification: Deep Space Explorer/Escort
Length: 343 meters
Decks: 18
Crew: 200
Affiliation: Federation Starfleet
Primary Starship Specifications
Vessel Configuration: Deep Space Explorer/Escort
Starship Dimensions:
Length: 343 meters
Beam: 133 meters
Height: 66 meters; 15 Decks. 75 meters; (Tactical Pod) 2 Decks.
Mass: 721,000 metric tons
---
Crew Compliment:
Starfleet Officers: 75
Starfleet Enlisted: 125
Maximum Life Support Capability: 800
---
Propulsion Systems
Sublight

Impulse Fusion Reactors: Two Intrepid-Class Mark-V Impulse Fusion Reactors
Maximum Speed: 0.8c sublight velocity
Faster Than Light

Warp Drive: One 2200-Plus Series Enhanced Cochrane Warp Core feeding 2 nacelles
Cruising Speed: Warp Factor 8.6
Maximum Cruise: Warp Factor 9.5
Maximum Attainable: Warp Factor 9.980
Faster Than Warp

Subspace Conduit Drive: 1 x Aurian Subspace Conduit Generator
Quantum Slipstream Drive: 1 x Mark-III Benamite-based Quantum Slipstream Drive
---
Tactical Systems
Offensive Systems:
Type-XV Phaser Arrays
Type-3 Pulse Fire Hybrid Torpedo Launchers (4)
Type-VI Burst Fire Hybrid Torpedo Launchers (6 - Weapons Pod)
Defensive Systems:
Auto-Adaptive Shield Matrix
Standard Single Hull plus 5 cm High Density Armor
---
Starship Labs
• Holographic Programming
• Astrometrics
• Medical Labs
• Biological Research Labs
• Technological Research
• Propulsion Research
---
Auxiliary Vehicles
Shuttle Bays: 3
Shuttles: 8
• 2 x Type 4
• 2 x Type 8
• 2 x Type 9
• 2 x Type 14
• 1 x Aeroshuttle
• 4 x "Repair" Support Craft (Separate Storage)
---
Deck Layout
Deck A:
Deck B:
Deck 01: Main Bridge, Captain's Ready Room, Executive Officer's Office, Observation Lounge, Deck 1 Transporter, Aft Airlock
Deck 02: Mess Hall, Captain's Private Dining Room, Holosuites (3), Miscellanious Science Labs
Deck 03: Senior Officer's Quarters, Captain's Quarters, Holosuites (2)
Deck 04: Crew Quarters, Transporter Rooms 1 and 2, Aft Torpedo Launchers, Phaser Maintenance
Deck 05: Crew Quarters, Sickbay and Chief Medical Officer's Office, Surgical Wards, Recovery Rooms, Medical Staff Lounge, Counselor's Office, Crew Quarters, Ship's Library
Deck 06: Crew Quarters, Science Labs, Auxiliary Deflector Dish & Control Room, Command Computer Core & Control Room, Holodecks 1 and 2
Deck 07: Crew Quarters, Command Computer Core, Cargobays 1 and 2 - Upper Level, Sensor Maintenance room
Deck 08: Primary Security Office & Armory, Security Training Holosuite, Secured Quarters, Port, Starboard and Forward Airlocks, Cargobays 1 and 2 - Lower Level, Astrometrics Lab
Deck 09: Aerowing Docking and Loading Bay, Science Labs, Intelligence Facilities, Main Shuttlebay - Flight Operations Room
Deck 10: Main Engineering - Level 2, Main Shuttlebay - Flight Deck, Shuttlecraft Maintenance Bay, Aft Section EVA Access, Workbee Docking hatch, Operations Computer Core
Deck 11: Main Engineering - Level 1, Chief Engineer's Office, Operations Computer Core Control Room, Primary Deflector Dish Control Room, Aft Lounge, Turbolift Maintenance Bay, Holosuite 4, Engineering Research Labs
Deck 12: Anti-Matter Storage Pods, Engineering Support Centers, Quartermaster's Office, Storage Rooms, Auxiliary Warp Core Maintenance Room
Deck 13: Aft Landing Struts, EPS Control Room
Deck 14: Forward Landing Struts, Auxiliary Cargobay
Deck 15: Forward tractor beam emitter, Warp Core ejection systems
Community content is available under
CC-BY-SA
unless otherwise noted.